BOSE introduces new Aviation Headset
Lightweight, Comfortable, Three Levels of User Selectable Active Noise Cancellation
April 10, 2018 - Bose, a leader in premium aviation headsets, introduced its new active noise cancelling headset for the flight deck, the Bose ProFlight Aviation Headset. Designed for the professional pilot, the ProFlight is the industry's smallest, quietest, and most comfortable active noise cancelling communication headset, and joins the acclaimed Bose A20® in the company's aviation headset line.
With more than 30 U.S. design and utility patents, the Bose ProFlight Headset features a lightweight and comfortable in-ear configuration, three user-selectable levels of active noise cancellation and a Tap Control for Talk Through communication function that allows pilots to hear anyone on the flight deck that is not connected to the intercom - without removing the headset or an earpiece. The ProFlight Aviation Headset is FAA TSO-C139a and EASA E/TSO-C139a certified, a requirement that is increasingly important for many airlines and corporate flight departments.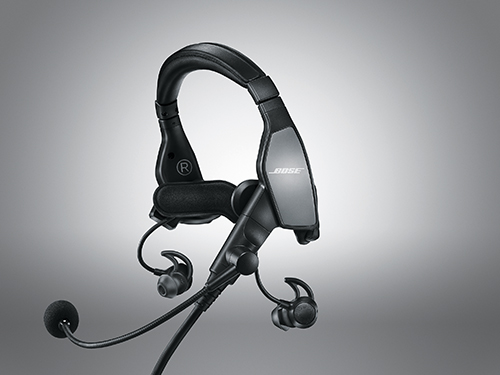 "We've spent over thirty years researching and developing active noise cancelling technology," said Matt Ruwe, senior product manager for Bose Aviation and Military headsets. "The ProFlight Aviation Headset is the culmination of that experience and knowledge, and through the application of proprietary Bose technology, provides a real solution to many of the challenges pilots of crewed and turbine powered aircraft face."
ProFlight Broadens the Bose Aviation Headset Line
Now pilots can choose the headset that is best suited for their flight environment: the A20® Aviation Headset, which is ideal for louder noise environments, and which provides the most noise attenuation available from Bose for the aviation market, or the new Bose ProFlight Aviation Headset, which is designed for the lower noise environments and unique needs of pilots who fly in airline flight decks and corporate jet aircraft.
New Form Factor, Enhanced Features, Three Levels of User-Selectable Noise Cancellation
With an on-head weight of only 139 grams (4.9 ounces), the Bose ProFlight Headset features a forward-thinking form factor that combines a lightweight headband for stability with an ear bud configuration that rests lightly yet securely in the bowl of the ear, allowing the headset to be worn comfortably for hours at a time.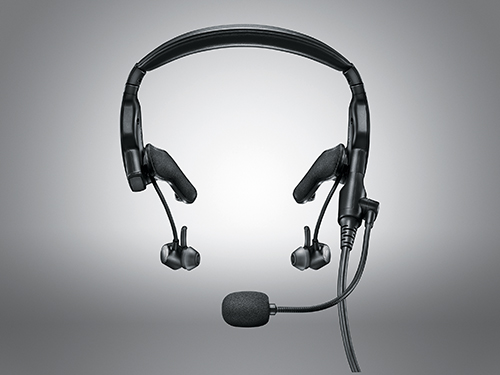 Designed to deliver clear audio and communications, with or without an intercom, the ProFlight also provides three user selectable levels of noise cancellation, allowing pilots to optimize the performance of the headset to their unique environment. Additional features, such as a quick release, side-swappable down cable and microphone, Bluetooth® connectivity, and Tap Control for Talk-Through communication, address the unique challenges present for pilots flying larger business jets and commercial turbine powered aircraft. ?The ProFlight Headset delivers on its core mission of providing clear communication, active noise reduction and a comfortable fit, but also adds many features that are industry first's. ???
"The ProFlight delivers a combination of noise reduction, communications clarity and comfortable fit. But it also addresses some real and long standing problems professional pilots have had to deal with for years" said Ruwe.
Pricing and Availability
The ProFlight Aviation Headset will be available worldwide and sold in the U.S. for $995.95, please check local pricing for other regions. Initial customer deliveries will begin the last week of May, 2018. ProFlight will be sold through the European Bose eCommerce websites and select authorized Bose Aviation dealers in the EMEA region.
About Bose Aviation
Bose has provided high performance communication Headsets for pilots for more than 25 years. Our products are recognized for their high quality and reliability as well as for the comfort, clear communication and noise cancellation they provide. Our latest ProFlight Aviation Headset for professional and airline pilots builds on that reputation.
About Bose Corporation
Bose Corporation was founded in 1964 by Dr. Amar G. Bose, then a professor of electrical engineering at the Massachusetts Institute of Technology. Today, the company is driven by its founding principles, to develop new technologies with real customer benefits. Bose® innovations have spanned decades and industries, creating and transforming categories in audio and beyond. Bose products for the home, in the car, on the go and in public spaces have become iconic. From the company's home entertainment systems and Wave® music systems, to noise cancelling, aviation and audio headphones, digital music systems, Bluetooth® speakers and professional solutions, Bose has changed the way people listen to music.
Bose Corporation is privately held. The company's spirit of invention, passion for excellence, and commitment to extraordinary customer experiences can be found around the world - everywhere Bose does business.
The Bluetooth® word mark is a registered trademark owned by Bluetooth SIG, Inc. and any use of such mark by Bose Corporation is under license.