Beech King Air conversion to modern glass cockpit
Garmin G1000 NXi including ADS-B OUT
Augsburg Air Service offers Beechcraft King Air owners a value-added and future-proof cockpit conversion to the state-of-the-art Garmin G1000 NXi avionics suite.
Augsburg/Friedrichshafen: Augsburg Air Service, the specialist for the robust twin-turboprop aircraft of the Beechcraft King Air family, is offering its customers the conversion to the new, powerful Garmin G1000 NXi avionics suite.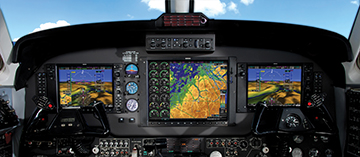 Garmin G1000NXi avionics suite incl. ADS-B Out
From June 7, 2020, all aircraft in Europe that fly faster than 250 knots or are heavier that 5.7 tons must be equipped with an ADS-B-capable transponder (Automatic Dependent Surveillance – Broadcast). The date for the mandate will not be changed, aviation authorities have clearly and repeatedly stated.
For older King Air models, there is no advantage of just adding an ADS-B transponder. But the ADS-B mandate is a great opportunity to swap the entire older avionics for a future-proof high-performance Garmin G1000 NXi. Thus, the owners also increase the value of their aircraft.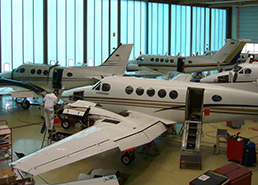 King Air specialist AAS Augsburg
Those, who decide on a complete conversion to the Garmin G1000 NXi, benefit from several advantages: The required ADS-B functionality is included, and the aircraft's avionics are state-of-the art in just one step!This saves King Air owners unnecessary downtime, and the cost of a package conversion is lower that if all components were replaced individually and in several stages. After upgrading to the G1000 NXi, owners will enjoy an aircraft with one of the most advanced avionics suites on the market.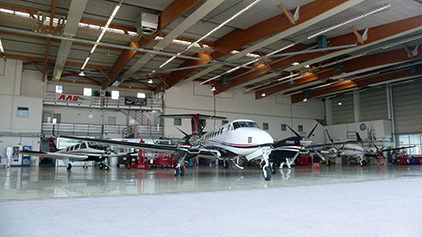 Augsburg Air Service – hangar
Waiting for the retrofit to become cheaper is a bad idea, experts warn. The retrofit will not be cheaper, quite the contrary. Due to the anticipated rush for upgrades in 2019, a cost increase of up to 15 percent has to be taken in consideration. In addition, it can happen that there are delays or service slots required at the MRO facilities for the mandatory conversions.
Talk to us and arrange a consultation so that Augsburg Air Service can find the optimal solution for you!
Contact ADS-B Out Upgrade: Florian Kohlmann / Thomas Erz Telefon: +49 821 7003 – 130
office@aas-augsburg.de
About Augsburg Air Service and Atlas Air Service
Augsburg Air Service is an independent company subsidiary of the Atlas Air Service AG, Ganderkesee, and located at Augsburg Airport, the most important airport for general aviation in the Munich area. Augsburg Air Service has presented competence and quality in Business Aircraft Services during the past 40 years. The company is a maintenance organization for Embraer Executive Jets, Cessna Citation Jets and Beechcraft- and Hawker aircraft – with approximately 85 employees. Atlas Air Service is represented at four locations in Germany (Bremen, Ganderkesee, Paderborn and Augsburg) with 250 employees and is also the authorized sales representative for Embraer Executive Jets in Germany, Austria and Switzerland. The company also sells pre-owned aircraft on behalf of its customers. More info: aas-augsburg.de