Another Embraer Phenom 100E for the DACH region (Germany, Austria, Switzerland)
Atlas Air Service
Atlas Air Service sells a Phenom 100E to a customer from the region around Lake Constance. The aircraft will be operated by Jet24 GmbH in Vienna. In terms of comfort and operating costs, the Embraer Phenom 100E is the most complete entry-level light jet.
i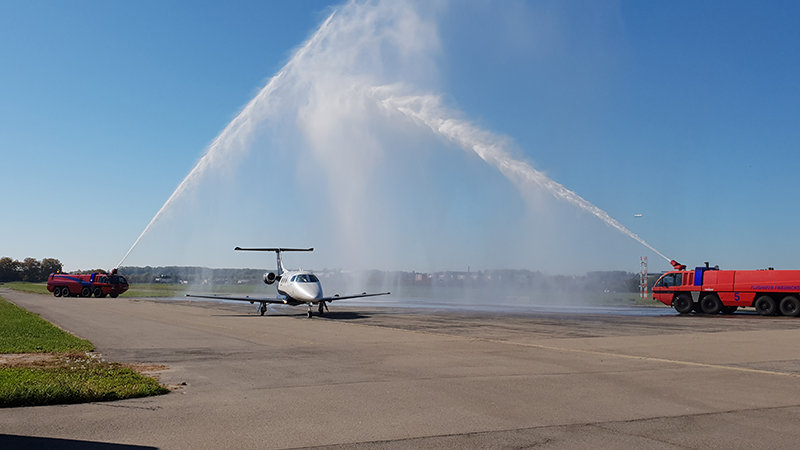 Water cannon salute: Welcome of the Embraer Phenom 100E at airport Friedrichshafen
The spacious interior with an "Oval Lite" cabin design has been created by BMW Group DesignworksUSA. In addition, the jet has been authorized for single pilot operation and offers the intuitive Prodigy Flight Deck, which is based on Garmins G1000 Avionics. Large windows providing more natural light, typically only seen in larger aircraft, a refreshment center, integrated air stair including step lighting, as well as the spacious baggage compartment are revolutionizing the Very-Light-Jet class.
"In the entry-level segment, the Phenom 100E is the preferred choice of pilots, charter businesses and flight operations of mid-size companies as it set new standards for performance and operating cost for flight routes out of Central Europe. Our customer appreciates in particular our leading edge in terms of passenger comfort", says Thomas Frank, Sales Manager at Atlas Air Service AG. Atlas Air Services is exclusively responsible for the sales of Embraer Executive Jets in Germany, Austria and Switzerland and has been successful in the field of business aviation since 1970.
About Atlas Air Service
Atlas Air Service AG stands for more than 45 years of competence in business aviation. The company employs 250 staff members at its four business locations in Bremen, Ganderkesee, Paderborn and Augsburg. The business units of Atlas Air Service include the sale of new Embraer Executive Jets (Authorized Sales Representative for Germany, Austria, Switzerland) and pre-owned aircraft, maintenance/repair/overhaul (MRO), sale of spare parts (Parts Sales), airworthiness management (CAMO), non-destructive testing (NDT) and management/operation (AOC) of business jets. Atlas Air Service is an Authorized Service Center for Embraer Executive Jets, Williams International and FAA Approved Repair Station.
Atlas Air Service AG
Otto-Lilienthal-Straße 23
27777 Ganderkesee/ Germany
Fon: +49 4222 45-0?Fax: +49 4222-45-45
service@aas.ag
www.aas.ag