MTV-34 certified for engines up to 141 shp
MT Propeller
Atting, December 2018. MT-Propeller received the extended Type Certification for the Propeller Model MTV-34 for engines up to 141 shp at a maximum propeller speed of 2560 rpm.
This small and light weight 3-blade propeller with a diameter of up to 70,08 inch (178 cm) was originally designed for Ultra Light Aircrafts (UL) and Light Sport Aircrafts (LSA) aircraft with the Rotax 912/914 series and now with the power rating it is also applicable for UL and LSA with the Rotax 915iS.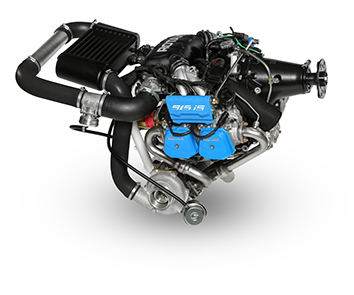 The MTV-34 prop was originally designed for light aircraft with the Rotax 912/914 series and is now also applicable for UL and LSA aircraft powered by the Rotax 915iS.
By this it is the lightest certified constant speed propeller and ground adjustable propeller certified for 141 hp. This propeller is also vibration tested and approved on the Rotax engine family.
The MTV-34 natural composite propeller is an easy to maintain, low maintenance, certified system - a constant speed propeller in long time proven MT-Propeller quality. The propeller weight ist about 9kg (19,8lbs), the UL MT-Governor for UL is about 1kg (2,2 lbs) and the optional available MT-Propeller Kevlar Spinner assembly has also a weight of about 1kg (2,2 lbs). It has the same technology like MT-Propeller for Regional Airliner and Aerobatic Aircraft.
Additionally to our 3-bladed MTV-34 propeller also the MTV-33 (2-bladed) and MTV-36 (4-bladed) propeller are available.
About MT Propeller
MT-Propeller is the world leading natural composite propeller manufacturer with 30 certified propeller models from 2-blade to 7-blade hydraulically controlled variable pitch propeller, for engines producing up to 5000hp, and 2-blade to 4-blade electrically controlled variable pitch propeller, for engines producing up to 350hp as well as two blade fixed pitch propellers.
The high performance, light weight and durable MT-Propellers can be used on aircraft with piston engines and propeller turbines, as well as on airships, wind tunnels or hovercraft. MT-Propellers can be developed for nearly every aircraft type from motor gliders to regional airliners.
Fulfilling the highest certification requirements they are also supplemental type certified on Part 25 aircraft.
MT-Propeller is holder of over 210 STCs worldwide and OEM supplier for more than 90% of the European Aircraft Industry as well as 30% of the US Aircraft Industry. 20,000 propeller systems with more than 70,000 blades are in service.
150 Million fleet hours where already performed on MT-Propellers. 36 years ago, the first MT-Propeller was shipped. A factory certified network of 62 service centers, provides best service and maintenance all over the world.
www.mt-propeller.com