Atlas Air Service AG
Good interim results at AERO 2018
Since 1970 the name
Atlas Air Service AG
, Europe's largest specialist for Embraer Executive Jets, Cessna Citation Jets, as well as Beechcraft and Hawker aircraft stands for competence and quality in supporting owners and operators of business aircraft alike. The company, based at four different sites in Germany (Bremen, Ganderkesee, Paderborn and Augsburg), currently employing 250 staff, is an Authorized Sales Representative for Embraer Executive Jets in Germany, Austria and Switzerland, and also specializes in selling pre-owned aircraft on behalf of their clients.
Small wonder, therefore that Atlas Air Service is once again the largest exhibitor in the field of business aviation at this year's AERO show in Friedrichshafen, Germany on the shores of beautiful Lake Constance from April 18 through April 21, 2018.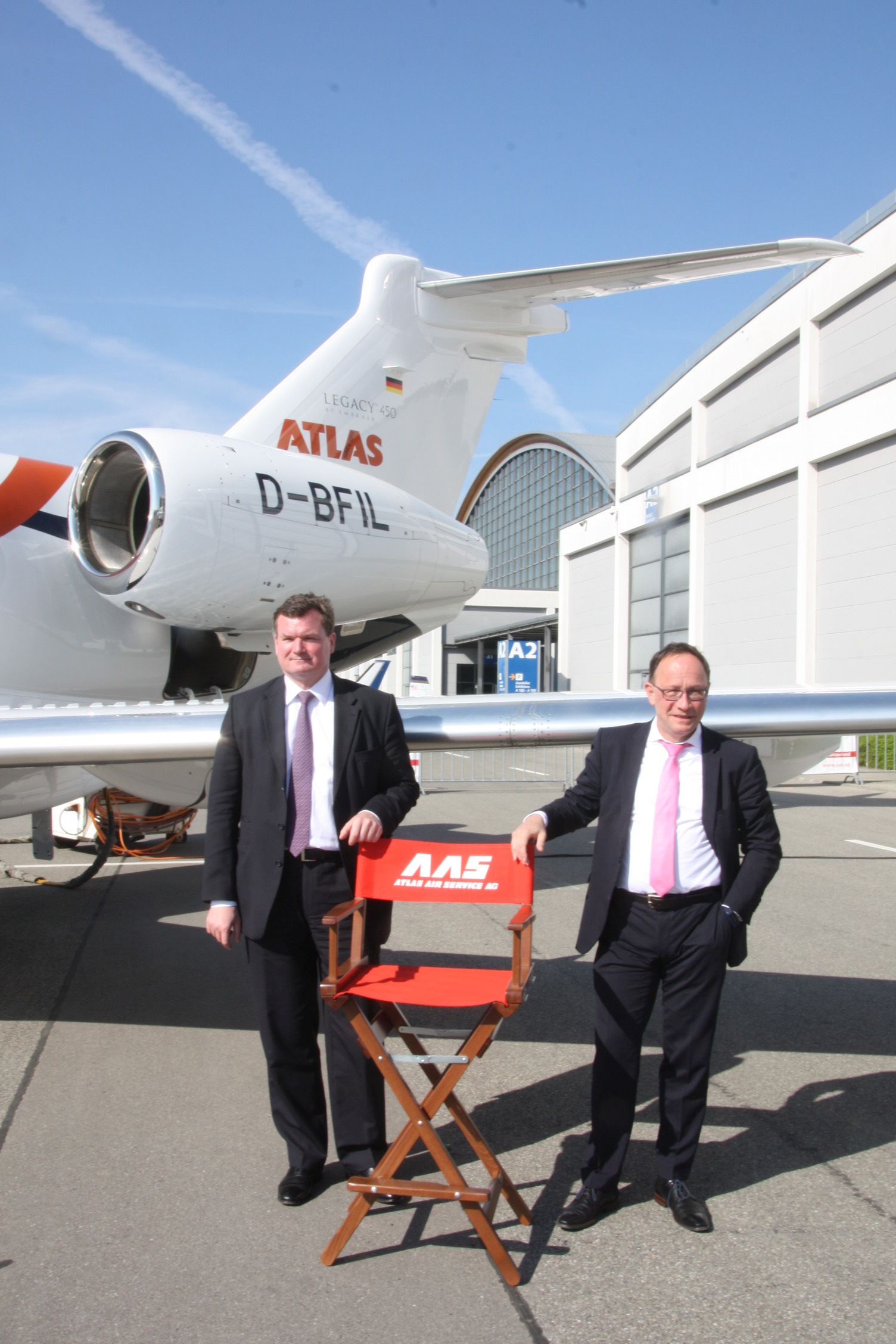 Both executive directors of Atlas Air Service AG, CEO Dr. Nicolas von Mende (left) and Gregor Bremer are satisfied with the interim results of AERO 2018.
AEROMARKT had the opportunity to interview Atlas Air Service representatives on April 19, 2018 to obtain first interim results from this company's perspective of the 2018 AERO show. Both executive directors of Atlas, Dr. Nicolas von Mende (CEO) and Gregor Bremer pointed to the present positive development in the field of Business Aviation, a trend that also becomes apparent in concrete sales figures. Stimulated by the latest tax legislation in the United States which facilitates the deduction of costs related to buying and operating a business aircraft, a notable increase in demand for used business aircraft has set in, which sweeps the European business aviation markets, too. This creation of a seller 's market has led to the formation of a solid price base for used business aircraft. Better still: pre-owned aircraft made by business aviation manufacturer Embraer have lately even started to increase in value according to the Atlas representatives.
First Phenom 300E in Europe
Atlas Air Service is also delighted about another "first" in sales when this week, the first brand-new Phenom 300E ( "E" for "Enhanced") in Europe will be ferried from Melbourne in Florida and handed over to its new Berlin, Germany based owner in the week after.
Atlas was pleased with the results of fiscal 2017, when a total of 12 business aircraft were sold and turned over to their new owners by the company. The runner-up in sales of business aircraft in the same geographical area having sold four aircraft in this period, Atlas now claims a market share of roughly 75 %. The company expects even better results in the current year after a good start into fiscal 2018.
Project of immense aviation history related value finds AAS support
Also most interesting is Atlas Air Service's dedication to a project of immense aviation history related value. The corporation supports German entrepreneur Dieter Morszeck's efforts to resurrect a traditional German aircraft manufacturer, the Junkers Luftfahrtwerke. Morszeck plans to breathe new life into the Junkers F 13, the world's first all metal aircraft. One aircraft of this type already flies while others are planned to be built in a new factory and in accordance with customers' wishes in an effort "to sustain the legendary reputation of Hugo Junkers, one of Germany's greatest engineers and scientists now and in the future", as stated in the latest brochure published by the new Junkers Flugzeugwerke.