Atlas Air Service
Beechcraft King Air 250 acquired
Bremen, December 13th, 2019 . On November 22, the customer Mr. Jens Reupke took over his Beechcraft King Air 250 at Atlas Air Service in Bremen. The Twin-Turboprop is registered in German and its new home airport is Magdeburg-City.
The acquisition process for this aircraft took several months: after inspection of the Beechcraft King Air by Atlas Air Service in Turkey at its first owner the ferry flight to Bremen took place. The purchase inspection was performed by the 80 man strong inhouse maintenance facility which also carried out necessary modifications. It took as well all necessary measures concerning the import and customs formalities.
Atlas Air Service also supported the new aircraft owner in all administrative matters, from the preliminary contract to deregistration in the country of origin and registration in the German aircraft register.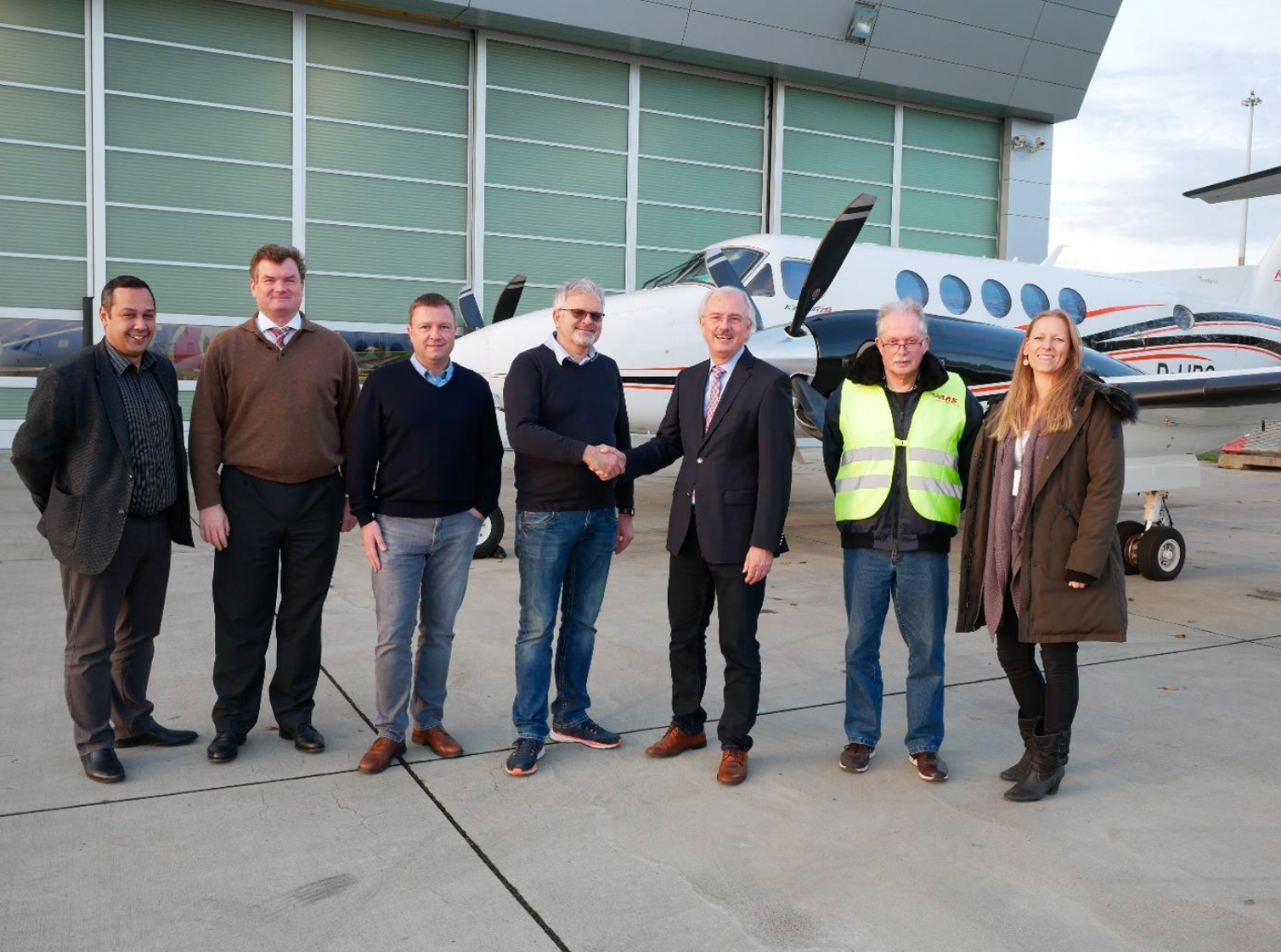 From left to right: Serkan Akin (CAMO Manager), Nicolas von Mende (CEO), Customer Pilot, Jens Reupke (Aircraft Owner), Hans Doll (Sales Director), Norbert Gunkel (Certifying Staff), Nadine Schirmer (Sales Assistant)
"I very much appreciate the high professional competence of the industry professional Atlas Air Service! I received comprehensive advice and effective support at every stage of the purchase process. We chose King Air because it enables us to fly to airports with short runways. The King Air 250 offers a lot of space and with the Proline Fusion cockpit a very modern avionics", says Jens Reupke, the new aircraft owner.
"In 50 years of company history, we have built up a unique competence for the best-selling aircraft brands Beechcraft, Cessna, King Air and Embraer on the market - with which we can advise our aircraft purchasing customers comprehensively! All services for a complex aircraft purchase transaction come from one source, including consulting, brokerage, certification, maintenance, aircraft management and external charter, if desired", says Hans Doll, Sales Director Atlas Air Service AG. "No other company in Germany is able to it in this way".
The family business Atlas Air Service, founded in 1970, focuses on sustainable and comprehensive customer service and is represented at four locations in Germany.
About Atlas Air Service
Atlas Air Service AG, founded in 1970, is one of Europe's biggest full service provider for business aircraft. The company employs 250 staff members at its business locations in Bremen, Ganderkesee, Stuttgart and Augsburg. The business units of Atlas Air Service include the sale of aircraft, maintenance/repair/overhaul (MRO), sale of spare parts (Parts Sales), airworthiness management (CAMO+), non-destructive materials testing (NDT) and management/operation (AOC) of business jets. Atlas Air Service is an Authorized Service Center for Embraer Executive Jets, Williams International, Honeywell Aerospace and FAA Approved Repair Station.
Atlas Air Service AG
Otto-Lilienthal-Straße 23
27777 Ganderkesee/ Germany
Fon: +49 4222 45-0?Fax: +49 4222-45-45
service@aas.ag
www.aas.ag