Next AERO in April 2021
Messe Friedrichshafen sets new date for aviation show
Friedrichshafen, 16/03/2020 - Our world has been turned upside down. Nevertheless, it is still imperative for Messe Friedrichshafen to look to the future. Since the coronavirus forced us to postpone the AERO Friedrichshafen scheduled for April 1 to 4, 2020, we have considered many possible options for rescheduling the event to take place on a later date.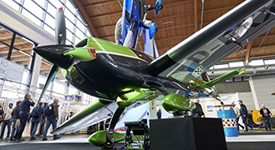 The next edition of AERO Friedrichshafen, the leading trade fair for General Aviation in Europe will take place from April 14 to 17, 2021.
The result of these deliberations is that the next edition of the leading trade fair for general aviation will take place from April 14 to 17, 2021.
"Neither the calendar of Messe Friedrichshafen nor the events taking place within the industry would have allowed easy rescheduling to the summer or fall of this year. After considering all the pros and cons, we found that a date in 2021 would be the only reasonable and acceptable way forward for the entire industry," says Head of AERO Roland Bosch, explaining the decision.
FAQs about how to deal with the originally planned AERO Friedrichshafen 2020 and additional information is available at
www.aero-expo.com.