Atlas Air Service sells Beechcraft King Air C90 GTi to the USA
Regardless of Corona crisis
Since October 2019 Atlas Air Service has been manufacturer-independent in aircraft trade. Several aircraft have already been successfully brokered between aircraft sellers and buyers by Atlas Air Service. The German business aviation expert also buys and sells pre-owned aircraft at its own risk.
"We take over the entire purchase procedure – from aircraft purchase to its resale – in this case to a US customer. Selling an aircraft abroad, including its re-registration, requires professional expertise and a thorough knowledge of the legal and complex aviation regulations.", says Hans Doll, Director Sales at Atlas Air Service.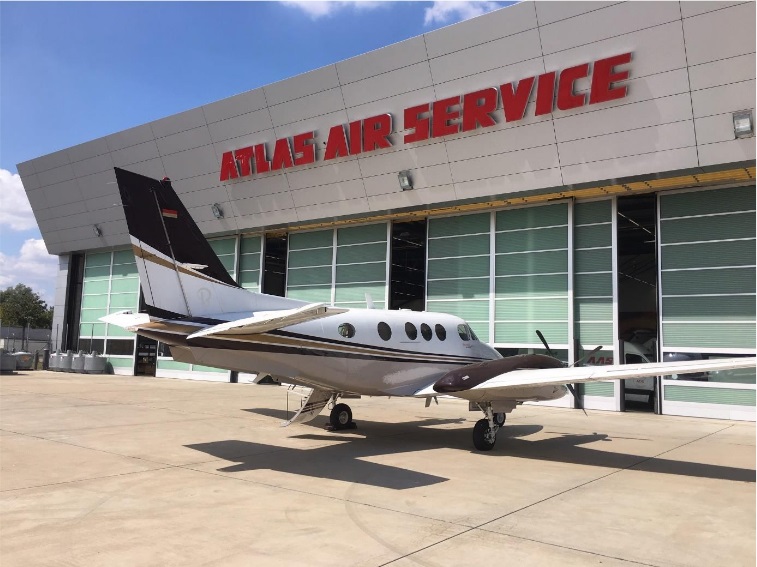 The twin turboprop Beechcraft King Air C90 Gti in front of the hangar of Atlas Air Service in Bremen.
The aircraft sold to the USA is a twin-engine turboprop aircraft with a pressurised cabin. With a range of 2,334 km, the King Air C90 is designed to carry 6-8 passengers. The aircraft was transferred last week by flying from Germany via Scotland, Iceland, Greenland, Canada to Tampa in USA.
About Atlas Air Service
Atlas Air Service AG, founded in 1970, is one of Europe's biggest full service provider for business aircraft. The company employs 250 staff members at its business locations in Bremen, Ganderkesee, Stuttgart and Augsburg. The business units of Atlas Air Service include the sale of aircraft, maintenance/repair/overhaul (MRO), sale of spare parts (Parts Sales), airworthiness management (CAMO+), non-destructive materials testing (NDT) and management/operation (AOC) of business jets. Atlas Air Service is an Authorized Service Center for Embraer Executive Jets, Williams International, Honeywell Aerospace and FAA Approved Repair Station.
Atlas Air Service AG
Otto-Lilienthal-Straße 23
27777 Ganderkesee/ Germany
Fon: +49 4222 45-0?Fax: +49 4222-45-45
service@aas.ag
www.aas.ag