An even wider radio and avionics product range
f.u.n.k.e. AVIONICS
AERO 2023 show guests are welcome to visit the f.u.n.k.e. AVIONICS booth in hall B1, stand no. 102 and discover their latest product ranges in the areas of aviation radio communication, both for on board and ground-based use such radio stations for airfields, as well as Mode S Transponders for certified and ultralight General Aviation aircraft.
One of their latest highlights is the TM350, a compact avionics module for airspace monitoring and proximity warning designed to improve the pilots' situational awareness. Continually updated, the TM350 system is now well established within the aviation market while being especially popular as a complete ADS-B-IN/OUT system in combination with the pre-configured TRT800H/A Mode S Transponder.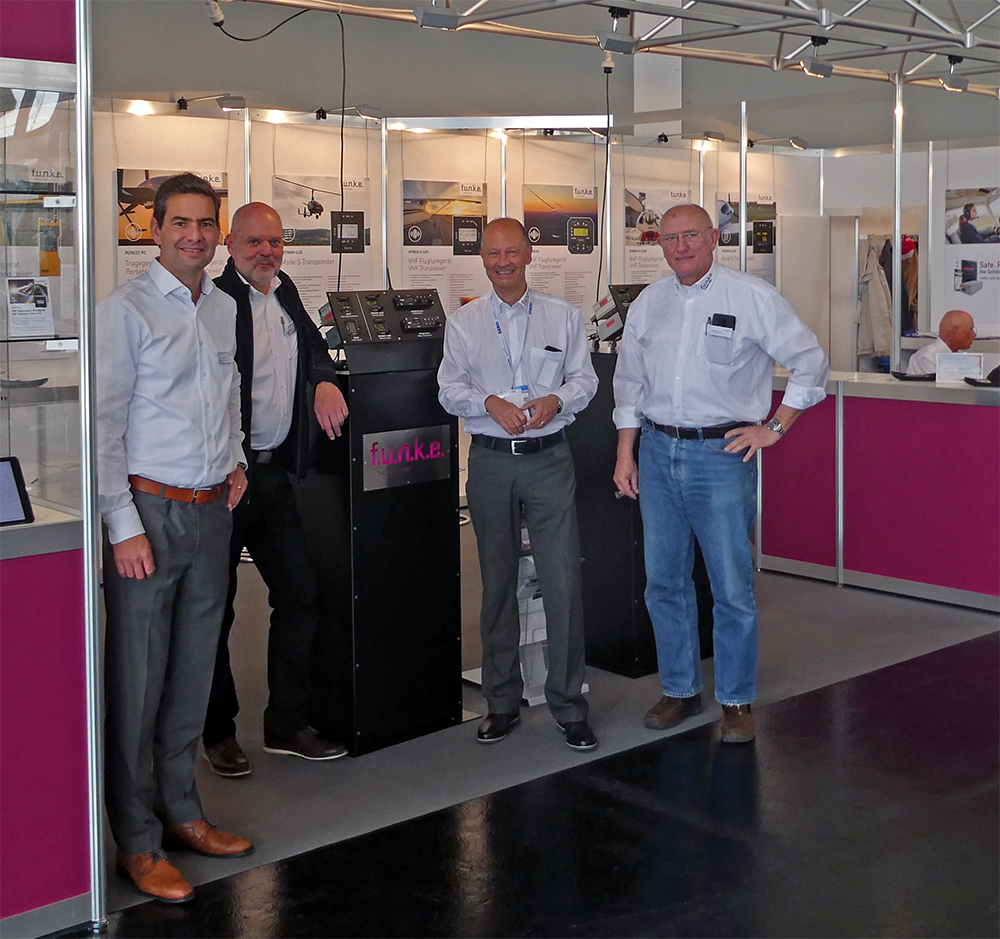 AERO 2022 has turned out to be a complete success for German avionics manufacturer f.u.n.k.e. AVIONICS GmbH under the auspices of Dr. Thomas Wittig (3rd from left).
f.u.n.k.e. AVIONICS now takes one more step ahead by introducing a new product range called DroneConnect. The system's ground antenna DroneConnectGround allows for the safe operation of unmanned flying objects through the use of a reliable traffic receiver for airspace monitoring. The system identifies and processes 1090 MHz transponder signals and 868 MHZ FLARM signals in the SRD band. This data is then processed and passed on to a USSP server via an LTE modem or an ethernet connection. "Power over ethernet" is envisaged as the primary source of voltage for any ground based installation, while the system can be supplied by a USB-C connection to a powerbank for any temporary flexible installation. All electronic components and antennae are installed within a compact weatherproof IP67 casing.
To further complete the DroneConnect product range, more LTE-based systems for onboard installation in unmanned flying objects are currently also planned for.
So, drop into their booth and be inspired. The f.u.n.k.e. AVIONICS folks are looking forward to your visit.
https://www.funkeavionics.de/en/