TMZ mandatory zone in the Netherlands
Schiphol TMA-1
A TMZ with mandatory listening watch below the Schiphol TMA-1 in the Netherlands is in force since July 13. Many foreign pilots use Dutch airspace, an information pamphlet has been designed in English which you
find here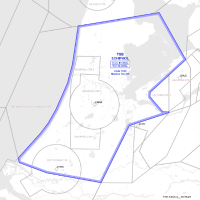 A TMZ with mandatory listening watch below the Schiphol TMA-1 in the Netherlands is in force since July 13, 2023.
Airspace violations are (for good reasons) at the top of the list of concerns of the Dutch ANSP. Ones foresees further restrictions being imposed if the number of airspace violations does not decrease. It is a temporary measure though. The aim is not so much to prevent an airspace violation, but to mitigate as much as possible the risks that may arise as a result of an airspace violation. Important in this respect is that a pilot is on call for LVNL. In principle, the pilot will not be alerted if he or she threatens to enter a controlled area without permission. The pilot will be called as soon as an airspace violation occurs. The commitment is then to guide the pilot back out of controlled airspace as quickly as possible to prevent a dangerous situation.
If you fly in relevant TMZ then you must therefore call out on 124.300 (Amsterdam Information) and 'key in' the transponder code 7020.Calling in is better than listening out, however, because you will also get flight information service. AOPA recommends pilots to call in and not just listen out.
Source:
IAOPA